Chris Springer, Cat's Hill, 1977
Greg Lemond (Dark Jersey) leads Chris Springer of San Jose in the junior event at the Cat's Hill Criterium, but national junior spring champion Springer later pulled ahead to victory in the 20-mile event.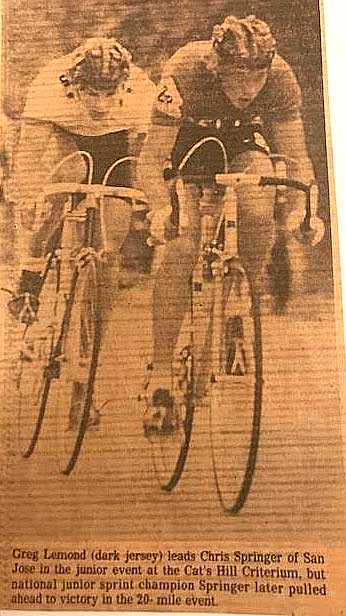 The 1977 Junior race became one of "Cat and Mouse", or more accurately, "Cat and Lion!" Greg MeMond, the 1977 Junior National Road Champion, and strongest junior rider in the nation, engaged in a memorabot struggle to shake off Chris Springer, 1976 and 77 National Junior Track and Sprint Champion, who is noted as being one of the very fastest juniors in the nation. The duel that ensued was one long to be remembered. LeMond tried time after time to get away from his rival, but just couldn't do it. LeMond led throught the final corner from Bachman onto Tait, and most of the way up the homestretch, but at the last moment, Springer shot by to win the junior race for the second time in three years.

That's Some Hill:
Chris Springer of San Jose, national junior sprint champion (left) leads Greg Lemond and pack of junior bicycle riders up the huge hill for which they named the Cat's Hill Criterium. springer eventually won the 20-mile race over the one-mile-plus course near downtown Los Gatos sunday. Above right, unidentified senior rider blurs past ahead of pack in the 40-mile main event, which was wond by Marc Brandt of San Jose Bicycle Club, a junior rider.